These easy 6-ingredient swirled Frozen Blueberry Yogurt Granola Cups make deliciously healthy snack, breakfast, or dessert!
Frozen yogurt granola is one of my favourite go-to treats and breakfast during the hot summer months! Frozen yogurt is a healthy alternative to ice cream and with just 6 ingredients, these frozen yogurt granola bites are just the refreshing treat you need this summer! Last year, I made these Frozen Strawberry Coconut Greek-Yogurt Granola Cups. This time, I wanted to try something similar with a homemade blueberry puree swirl.
These Frozen blueberry and yogurt granola cups are super simple to do, with less than 30 minutes hands-on time required. They are the perfect summertime treat and can be easily made ahead. There is no baking required for these frozen blueberry yogurt bites and no ice cream maker is needed either!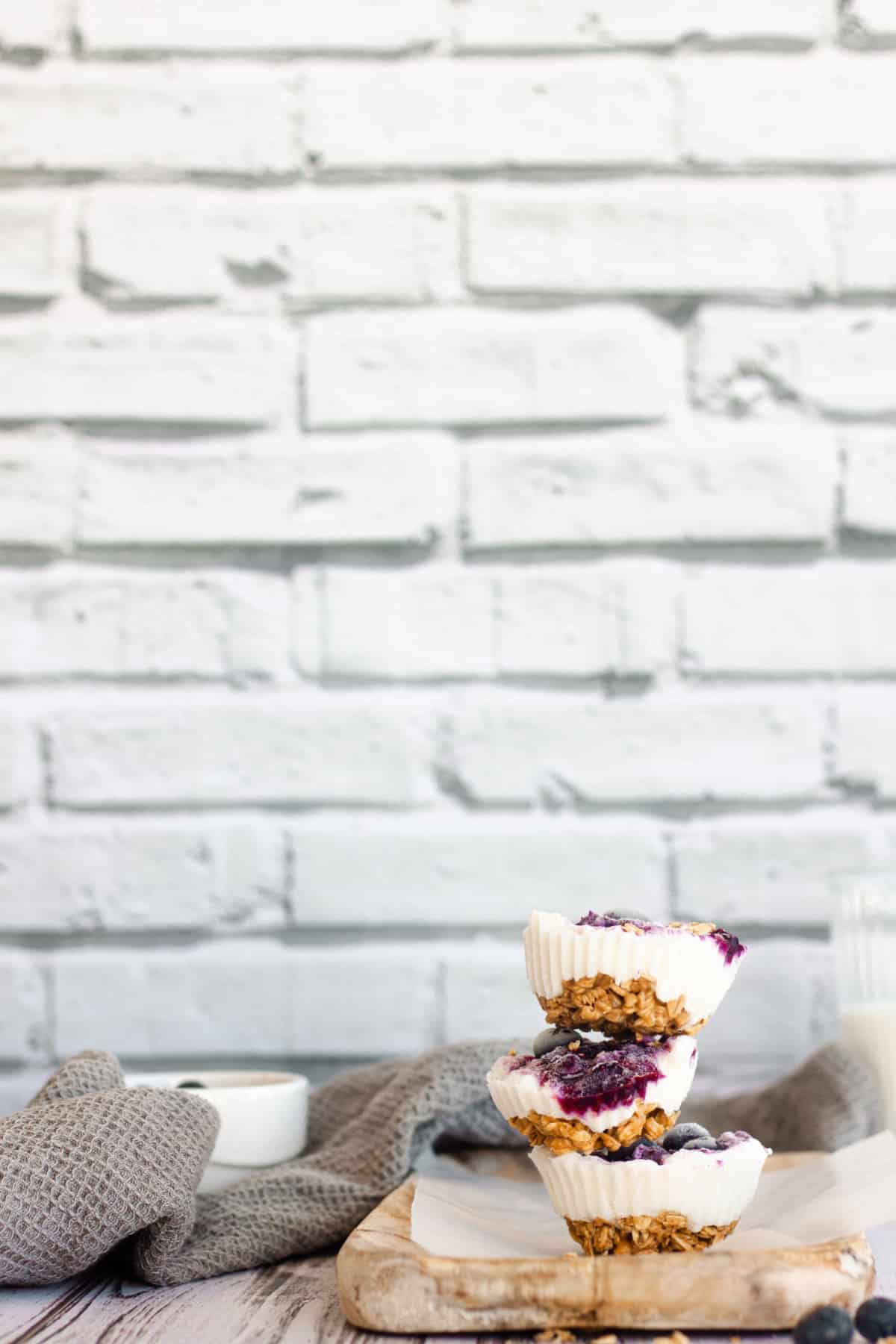 Ingredients and Substitutions for Frozen Blueberry and Yogurt Granola Cups
This recipe requires just 6 ingredients, and some can be substituted with whatever is readily available for you.
Granola - Use your favourite store bought granola. I like to use plain granola but you can use any type of granola with fruits, nuts, or chocolate bits. Use gluten-free granola to make these gluten-free!
Honey - This is needed to help solidify the granola base. You can also use maple syrup.
Peanut Butter - Makes up the base along with granola and honey/maple syrup. I prefer using smooth peanut butter, but the crunchy version should work too!
Greek Yogurt - Makes up the yogurt layer for these frozen yogurt bites with granola. You can use any type of yogurt (and flavor) you like. I prefer using plain low-fat Greek yogurt.
Blueberries - use fresh or frozen blueberries, or any other berry (strawberries and raspberries work great too)! Blueberries are pureed on the stovetop and then swirled into the yogurt layer.
Sugar - this is added to blueberries when making blueberry puree/sauce.
How to Make Frozen Blueberry Yogurt Bites with Granola
Step 1: Mix granola with heated peanut butter and honey/maple syrup. The mixture should be sticky and will make up the base of these frozen yogurt granola cups. Freeze bases whilst preparing the blueberry puree.
Step 2: Heat blueberries and sugar in a saucepan until soft. Mash into a puree using a potato masher and simmer for a few minutes. Transfer to a glass bowl to cool down.
Step 3: Top granola layer with Greek yogurt and 1-2 tbsp. of blueberry puree. Swirl puree using a skewer and top with more granola/whole blueberries. Freeze for 1-2 hours until set and enjoy!
Tips for the Best Frozen Yogurt with Granola
Use silicone muffin molds or glassine paper cups for easier removal of frozen blueberry-yogurt granola cups and to avoid sticking.
For a more filling snack, add your favourite toppings such as chocolate chips, nuts, maple syrup, or more fruit before serving.
Try these with other berries such as strawberries or raspberries instead!
Making Ahead
These Frozen yogurt bites with granola are perfect to make ahead! Store in an airtight container in the freezer for up to 2 months. You can make a large batch of these and freeze them to keep you cool through the summer months!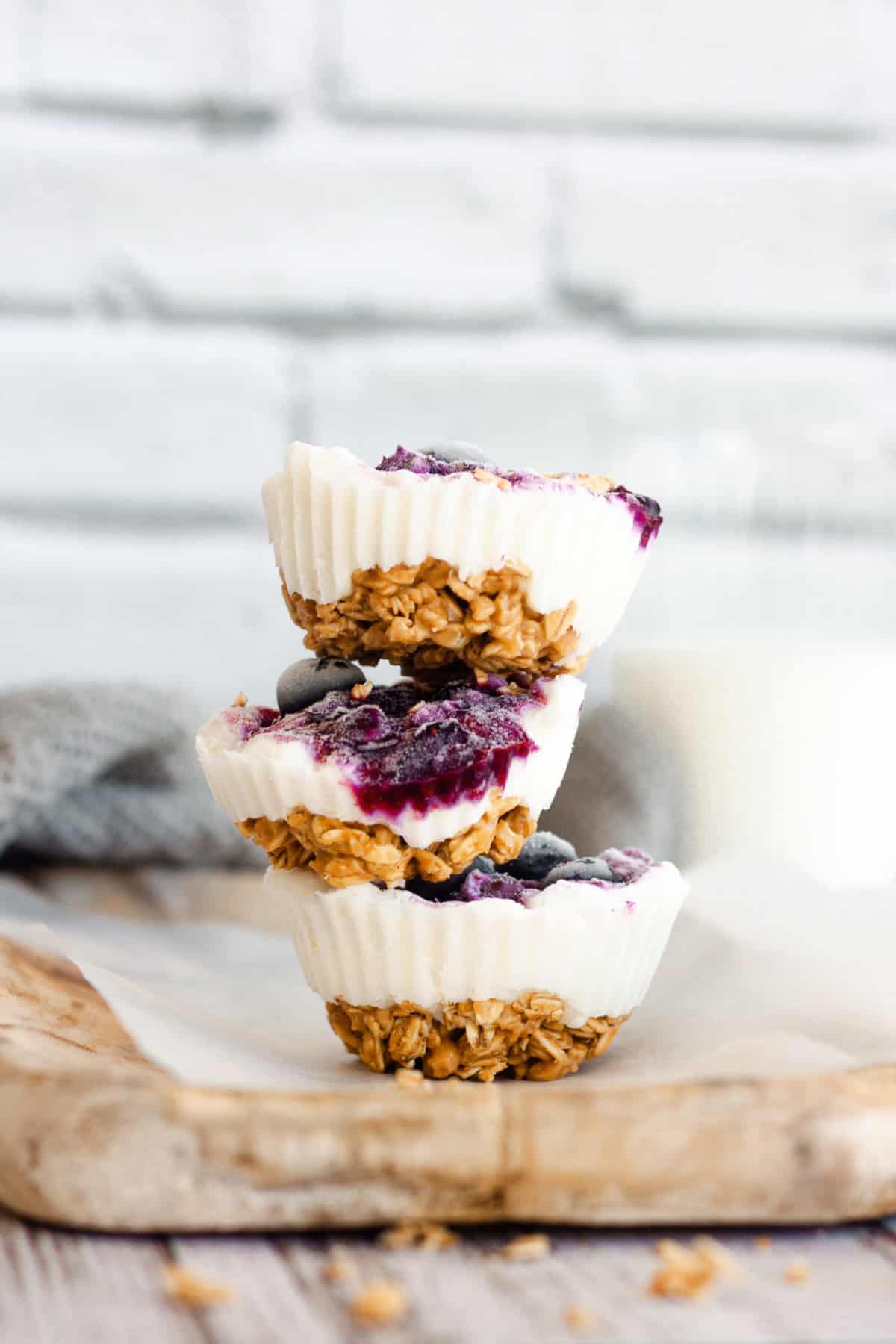 Other Great Breakfast/Snack Recipes
Try these other great recipes, perfect for a healthy and refreshing summer breakfast:
Frozen Strawberry Coconut Greek-Yogurt Granola Cups
Almond Butter and Jelly Tofu Smoothie (We are Not Martha)
Healthy Peanut Butter Granola (Tastes of Thyme)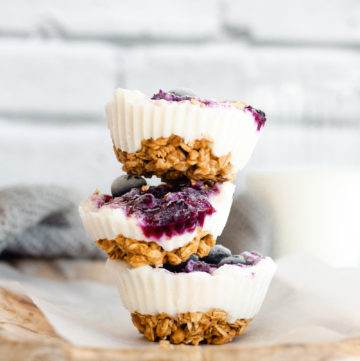 Frozen Blueberry Yogurt Granola Cups
These easy 6-ingredient swirled Frozen Blueberry Yogurt Granola Cups make deliciously healthy snack, breakfast, or dessert!
Ingredients
150

g

granola

(1 cup)

2

tbsp.

honey

or maple syrup

2

tbsp.

peanut butter

360

g

plain Greek yogurt

(1½ cups)

140

g

blueberries

fresh or frozen (¾ cup) + extra

2

tbsp.

granulated sugar
Instructions
Place honey and peanut butter in a small microwave-safe bowl and heat on medium-high power for 20 seconds. Stir well to combine.

In a large bowl, place granola and peanut butter-honey mixture and mix well until sticky. Divide mixture between 12 muffin tins or molds, pressing granola to the bottom. Freeze bases for 20-30 minutes. In the meantime, prepare blueberry sauce.

Place blueberries and sugar in a small saucepan on medium heat. Bring to a simmer and when blueberries have softened, mash using a potato masher or fork until juice has formed. Simmer for 3-4 minutes, remove from heat, and transfer to a glass bowl. Cool completely before using.

Once base has frozen, without removing it from muffin tin/mold, top with 1-2 tbsp. of Greek yogurt, followed by 1-2 tsp. of blueberry sauce. Use a skewer or toothpick to swirl blueberry sauce into Greek yogurt.

Top with fresh whole blueberries and/or granola. Freezer for 1-2 hours until set. Allow to thaw for 5-10 minutes before serving.