These soft and fluffy chocolate cupcakes are topped with a delicate matcha cream cheese frosting. Perfectly chocolatey with an earthy matcha green tea taste!
If you loved the Fudgy Matcha White Chocolate Brownies, you're going to love these Chocolate Cupcakes with Matcha Cream Cheese Frosting! Made with a super soft and fluffy chocolate sponge and a heavenly matcha green tea frosting with cream cheese, this is the cupcake recipe for chocolate and matcha lovers alike!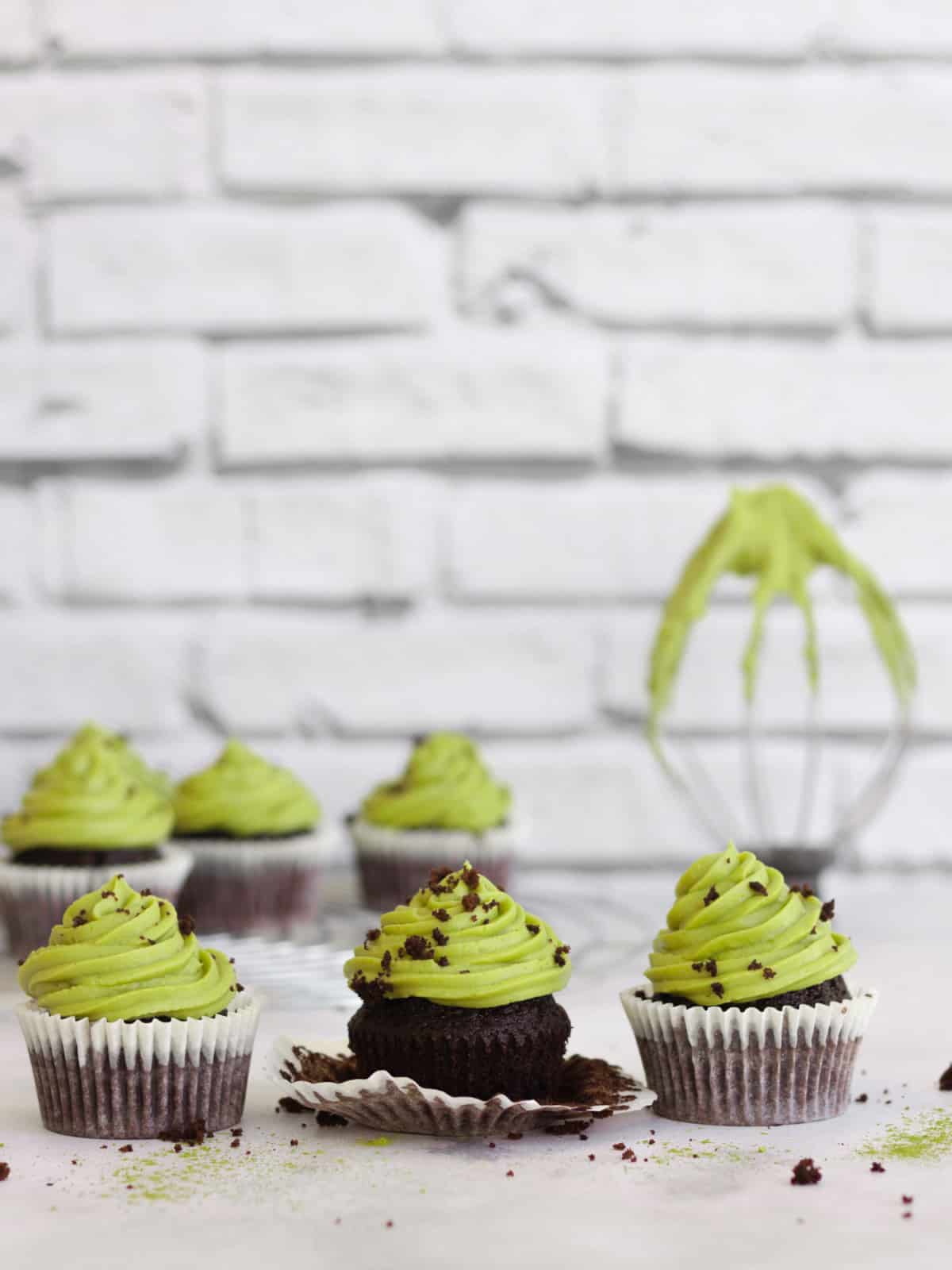 As you know by now, I love baking with Matcha. Matcha not only provides a unique earthy, mildly sweet and slightly bitter flavor, but also a beautiful vibrant green color that stands out. In these cupcakes, matcha is only incorporated into the frosting, rather than the baking part. I was really pleased with the contrast of the brown chocolate sponge with the bright green from the matcha frosting!
So if you have a birthday or special occasion to celebrate or you're simply a matcha lover like me, these Chocolate Cupcakes with Matcha Cream Cheese Frosting are just what you need! This recipe yields 12-14 cupcakes, and you can always half the amounts for a smaller batch!
Ingredients for Chocolate Matcha Cupcakes
For the chocolate sponge, you will need the following ingredients:
Flour - You can use all-purpose or cake flour. I prefer using cake flour as it's lighter and softer, which is what we want the sponge to be 🙂
Cocoa Powder - Use unsweetened, natural, cocoa powder if possible.
Baking Powder, Baking Soda, and Salt
Vanilla Extract
Eggs
Milk - Use semi-skimmed or whole milk for best results.
Brown sugar and Granulated sugar - I used half and half amounts of each. Feel free to use just one type if the other is not available. Brown sugar provides moisture and makes a soft cupcake sponge. Use light or dark brown sugar.
Vegetable oil - Vegetable oil, rather than butter, also contributes to extra moisture. You can technically use any type of vegetable oil, but I prefer canola oil due to its neutral flavor.
For the Matcha Cream Cheese Frosting, you will need:
Cream Cheese - Use full-fat cream cheese, either the brick type or the spreadable type.
Butter - Use unsalted, softened butter.
Matcha Powder - Use high-quality and sifted matcha powder.
Powdered Sugar - Make sure to sift before adding!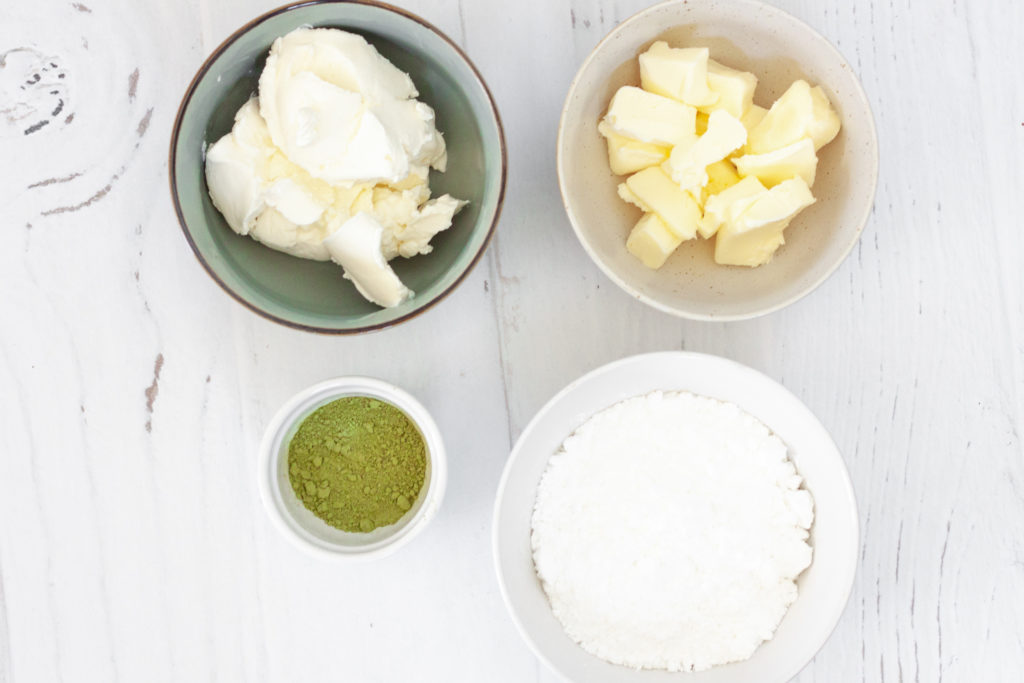 Tips for the Perfect Chocolate Cupcake Sponge
Sift and mix dry ingredients first in a separate bowl, for easier mixing later.
Beat eggs one by one for at least 1 minute each
Do not overmix the batter once you add dry ingredients - super important to achieve fluffy cupcakes!
Fill cupcake liners ⅔ of the way - do not overfill or the batter will overflow once baked!
Cool cupcakes completely before frosting - to make sure frosting holds its shape.
Reserve extra chocolate sponge and use its crumbs for as decorative topping on cream cheese frosting!
Tips for the Best Cream Cheese Matcha Frosting
Use cold full-fat cream cheese and room-temperature softened unsalted butter.
Make sure to sift powdered sugar and matcha powder well before adding - to avoid clumps! Matcha is very prone to clumping so this is a very important step.
Use high quality matcha powder - ceremonial grade or high quality culinary grade are great options (culinary grade matcha is good for this recipe since no baking is involved for the frosting so there is no risk of "browning"). The trick to getting a beautiful vibrant green lies in the quality of matcha powder used.
Store frosted cupcakes in refrigerator and chill leftover frosting.
Cream cheese frosting tends to harden when refrigerated. If your frosting is too soft, pop it in a refrigerator for 20-30 minutes and it should do the trick!
How to Store and Serve Chocolate Matcha Cupcakes
Store cupcakes in a refrigerator until serving. You can make these chocolate matcha green tea cupcakes ahead and store them in an airtight container in a refrigerator for up to 3 days. You can also prepare the matcha frosting for cupcakes and chill, in an airtight container, for up to 3 days before using.
Cream cheese frosting tends to harden when refrigerated. Thaw for 10-15 minutes before piping. You will need to re-whip the frosting before using.
Can Cream Cheese Frosting be Frozen?
Yes! You can also freeze cream cheese frosting for up to a month. Make sure to thaw well and re-whip before using.
You Might Also Like
Check out these other Matcha Dessert Recipes on the blog:
Vanilla Matcha Marble Pound Cake
Fudgy Matcha White Chocolate Brownies
Chocolate Cupcakes with Matcha Cream Cheese Frosting
Ingredients
Chocolate Cupcake Sponge
95

g

cake flour

(¾ cup) or AP flour

50

g

cocoa powder

(½ cup) unsweetened

½

tsp.

baking powder

¼

tsp.

baking soda

¼

tsp.

salt

80

mL

vegetable oil

(⅓ cup) canola or sunflower oil

100

g

granulated sugar

(½ cup)

100

g

brown sugar

(½ cup) light brown or dark brown

1

tsp.

vanilla extract

2

medium sized

eggs

120

mL

milk

(½ cup) semi-skimmed or whole
Matcha Cream Cheese Frosting
225

g

cream cheese

(8 oz) full-fat

113

g

unsalted butter

(½ cup) softened

240

g

powdered sugar

(2 cups) sifted

1

tbsp.

matcha powder

high-quality, sifted
Instructions
Chocolate Cupcake Sponge
Preheat oven to 175°C (350F) and line a muffin tray with cupcake liners.

Sift and mix flour, cocoa powder, salt, baking powder, and baking soda in a medium-sized bowl and set aside.

Place brown and granulated sugar and vegetable oil in a stand mixer fitted with the paddle attachment and mix on medium speed for 1-2 minutes.

Add eggs, one by one, and vanilla extract and mix for another 2 minutes. Use a spatula to scrape any ingredients from the side of the bowl.

Add dry ingredients, alternating with milk in 2-3 additions. Mix on low speed until just combined. Do not over mix. Mixture will be quite runny.

Divide batter between 12-14 cupcake liners, filling until ⅔ full. Do not overfill. Bake in a preheated oven for 18-22 minutes until a skewer inserted into the center comes out clean.

Transfer to cooling rack and cool cupcake sponge completely before frosting.
Matcha Cream Cheese Frosting
Place cream cheese in a mixing bowl of a stand mixer fixed with the whisk attachment. Whisk on medium-high for 30 seconds. Add softened butter and sifted matcha powder and mix to combine.

Add sifted powdered sugar, ½ cup at a time and whisk on medium speed until the desired pipeable consistency is reached. You may not need to use all the sugar. If green color is too light, add more matcha powder.

Transfer frosting to a piping bag fitted with your desired tip and frost cooled cupcakes. Top with chocolate sponge crumbs if desired. Store in refrigerator until serving.